So you saw this on Amazon or AliExpress and you thought, what in the world is an "Intey Inflatable Stand Up Paddle Board" and is it any good? In this review, we'll take a closer look at the Intey SUP to see if it lives up to the hype and is this the bargain of the century.
Price Point: $200-300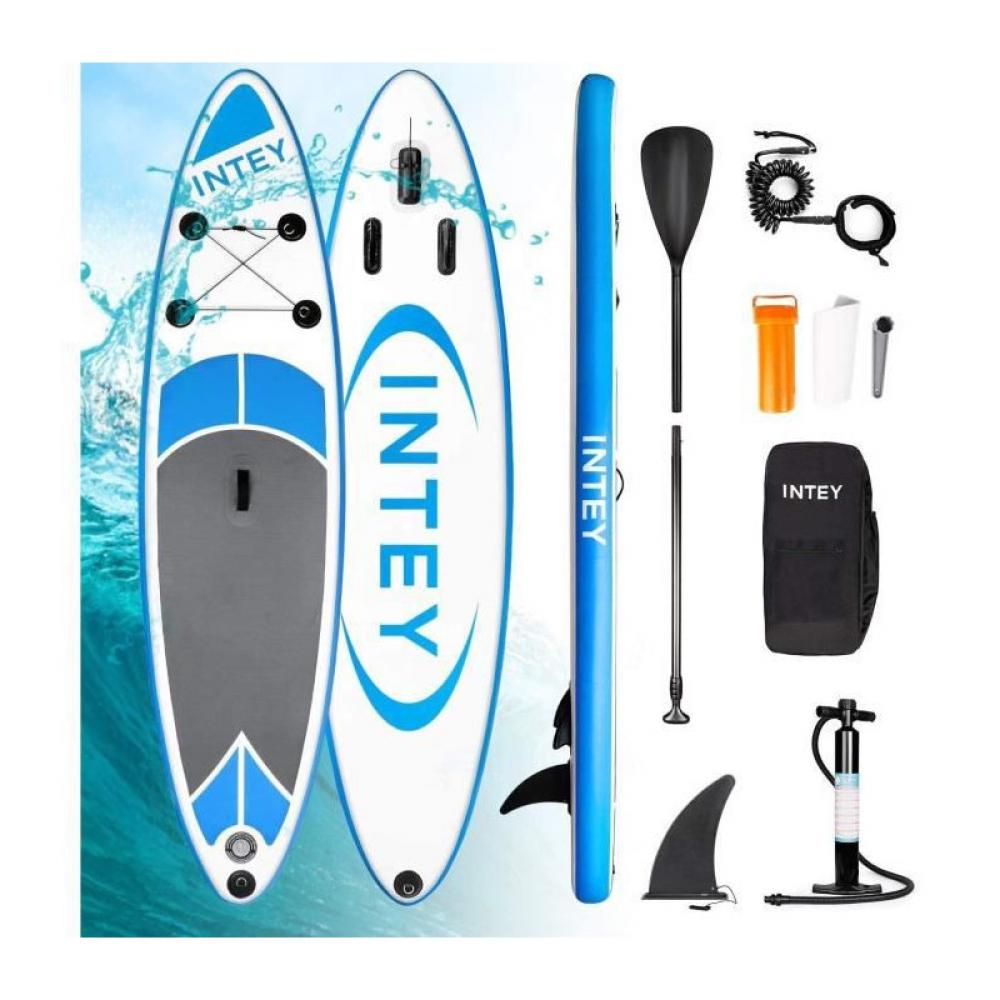 Intey Inflatable Design and Build Quality
The first thing that might catch your eye when seeing the Intey Stand Up Paddle Board is its sleek design. The board's vibrant colors and striking graphics give it a modern and attractive appearance. Being inflatable it makes it easy to store and move around, however does not inspire confidence in terms of durability. The construction primarily is PVC, however when testing, we were constantly worried about potential for punctures and damage especially when paddling out on shallow waters. Although this inflatable paddle board may withstand minor impacts, we are not sure in the longevity of the board.
The Intey Inflatable also features triple bottom panel fins that are designed to aid tracking and stability when on the water. The larger fin can be removed depending on preference, while the smaller ones cannot be removed.
Performance on the Water
Taking the Intey SUP Board out on the water is where the fun truly begins. The board's 10-foot length and 32-inch width on paper strike a good balance between maneuverability and stability, making it suitable for both beginners and intermediate paddlers. The board also has a non-slip EVA deck surface that is designed to prevent you from falling or dropping and cushions your fall if such accidents occur. It is also a good rest point that is able to maintain stability, should you feel a desire to lie down whilst out on the water. However when testing the paddle board, we found that tracking and control was difficult even in moderate winds and gentle waves meaning that it required constant adjustment and effort from the rider.


Paddle Board Accessories
One of the other features of the Intey SUP is the other accessories that comes in the package. The package also includes a paddle, pump, leash and repair kit. On surface, it may look like great value, however the biggest drawback is that the quality might be different to what you expect from your purchase.
With the included high-pressure hand pump, you can quickly inflate the paddle board to its optimal pressure in around 5 to 10 minutes. When it's time to pack up and head home, deflating the board is easy by releasing the high pressure valve. Once deflated, the paddle board rolls up neatly into the included travel backpack, making it a breeze to carry around and store when not in use.
We also had a real hard time with the hand pump provided for inflating the Intey Inflatable. We noticed that the pump is cumbersome and requires considerable effort to reach the recommended pressure. Also, the package also includes a paddle, however the build is kind of flimsy. Perfect for those not too serious with their Stand Up Paddling. Did I mention that it also comes with a repair kit and a portable storage bag?
For a product marketed to appeal to various skill levels and water activities, the Intey Stand Up Paddle Board's weight capacity is similar Inflatable SUPs that you might find on the market. With a 300-pound weight limit, heavier riders or those looking to carry some gear might find this paddle board insufficient for their needs. For the most part, its 300-pound weight capacity is more than enough to accommodate most riders and some gear without compromising stability.
For the most part we found that the accessories were adequate, however may break down quickly over an extended period. That said, it does come with an 18 month warranty period as well as a 30 day money-back guarantee at time of writing.
Conclusion
In conclusion, the Intey Stand Up Paddle Board is a cheap option for the total beginner that is getting started within Stand Up Paddling. Its sleek design and basic accessories i.e. Repair Kit, Carry Bag and Paddle, will be enough to get you started and better yet, won't break the bank.
At the same time, within this price range there are better option that may provide a more reliable and enjoyable paddling experience. For this paddle board, our concerns were around the longevity of the materials as well as lack of stability when tracking on the water.
We recommend exploring option that prioritise durability, stability, and performance whilst also providing a longer guarantee. Although great for those just starting out, the Intey might just leave you High & Dry.